Are heated apparel safe?
Due to the lack of understanding of new things, people will instinctively doubt or distrust them. Although the electric heated vest is not a new thing, it is for those who have never been in contact with it. Moreover, the heated vest is related to electricity, which has made people misunderstand it. Here are some answers to some questions related to electric vests.
Is heated apparel safe?
The electric heated vest consists of a vest, a far-infrared carbon fiber heating sheet, a battery, and a charger, the heating vest is to add a heating sheet to the ordinary vest. Through the external power supply, the current heating effect occurs to generate heat and actively heat the body. The power supply used is like a power bank that can be seen everywhere in life. The heating sheet, as the main heating element, is a sheet-like flexible fabric containing heating wires, which is soft and skin-friendly.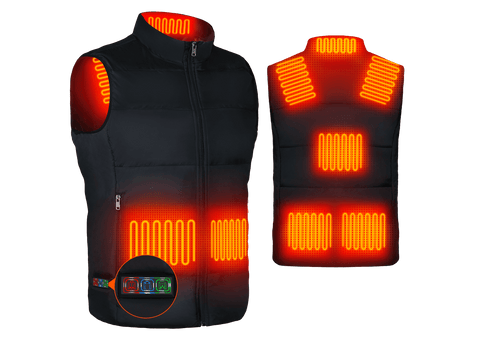 Long-term high-temperature heating will damage the surface skin of the human body, so the heated vest will have a maximum temperature limit. With the addition of temperature control, the temperature can be adjusted according to people's needs, so burns will not happen. Of course, the premise is that the quality of the electric heating vest purchased is qualified.

Doacewear heated vests are all intelligently heated, using a power bank as an energy source. The power bank is small in size and low in voltage, which is far lower than the voltage for safe electricity use. In short, the heated apparel is safe if you follow the guide to operate it right.
Could I fly with my heated apparel?
Yes, you could bring heated apparel on the airplane. There are no restrictions on carrying a jacket with you. However, if you want to take a heated jacket with you, you must check it out at the security counter. All Doacewear batteries are lithium batteries and you must keep them in your carry-on luggage. Because it has batteries and wires in it. It cannot be used on the plane, it can only be stored in the luggage. Since each airline has different rules about what luggage passengers can carry, you'll need to check the airline's rules for the flight you're looking to avoid extra time at security.

Generally, liquids, solidified and sprayed items, as well as dangerous items, such as knives, cannot be carried on an airplane. Passengers can bring small items to the plane for free during the trip. Different airlines have slightly different restrictions on the size and weight, check before you start your journey.
Could I wear the heated jacket to watch games outdoor like NFL and MLB?
Depends on different stadium rules, some are permitted some are not. Like First Energy Stadium Would allow battery-operated clothing when it is cold weather. But like New Era Field would not allow the battery-operated clothing. So It will be better if you could confirm on the stadium website or call the service center of the stadium.